Ivy-Mantled Tower is a hard-back book with 138 pages and 202 illustrations. It tells the compelling story of a succession of buildings from the medieval church with its bell tower (which still stands) to an 1833 church, followed by a the building of a late Victorian church which was demolished in 1969.
Thankfully, all has not been lost! The ancient tower has been rescued from dereliction thanks to the support of the Rectors of Hornsey and the diligent work of many volunteers.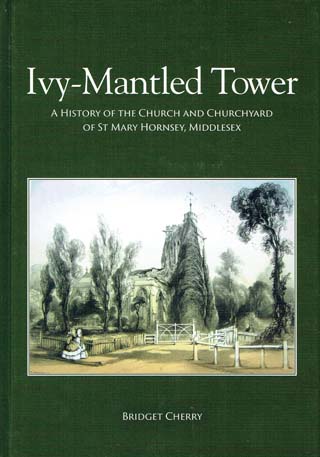 Book details
Hardback: 138 pages
Publisher: HHS (2015)
ISBN: 978-0905794532
RRP: 19.50
Sale price: £6.00 + p&p
We aim to send out all items within 5-7 days but as a small Society run entirely by volunteers turnaround times may sometimes vary.
About the author
Bridget Cherry is a Vice President of Hornsey Historical Society, founder member and former Conservation Officer. She has been honorary secretary of the Friends of Hornsey Church Tower. Bridget is an architectural historian who worked for many years as author and editor of the Pevsner Architectural Guides. She has written many articles and several books for HHS.