Crouch End -Four Walks is a pocket-sized book which replaces our earlier title Crouch End – A Walk.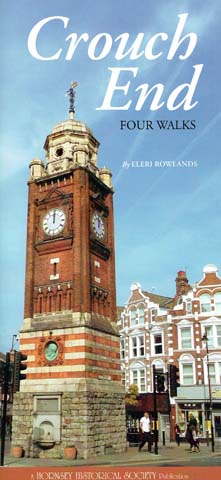 With 28 pages of revised text and 66 colour and four black and white illustrations and a map it provides a comprehensive guide to past and present Crouch End. Photographs by Lesley Ramm.
Book details
Paperback: 28 pages
Publisher: HHS (2015)
ISBN: 978-0905794549
RRP: £4.50 + p&p
We aim to send out all items within 5-7 days but as a small Society run entirely by volunteers turnaround times may sometimes vary.
About the authors
Eleri Rowlands is a retired GP who has known Muswell Hill well for most of her life. She is HHS Membership Secretary and a member of the HHS Archive Team. She has written several HHS Bulletin articles, plus three Walks books for HHS for which she took many of the photographs.
Lesley Ramm is a long-standing HHS member who has previously held the post of editor of the highly successful HHS quarterly Newsletter. She has taken many of the photographs which appear in three HHS Walks books.