A continuing look at Hornsey during the First World War including local conscientious objectors who refused to fight.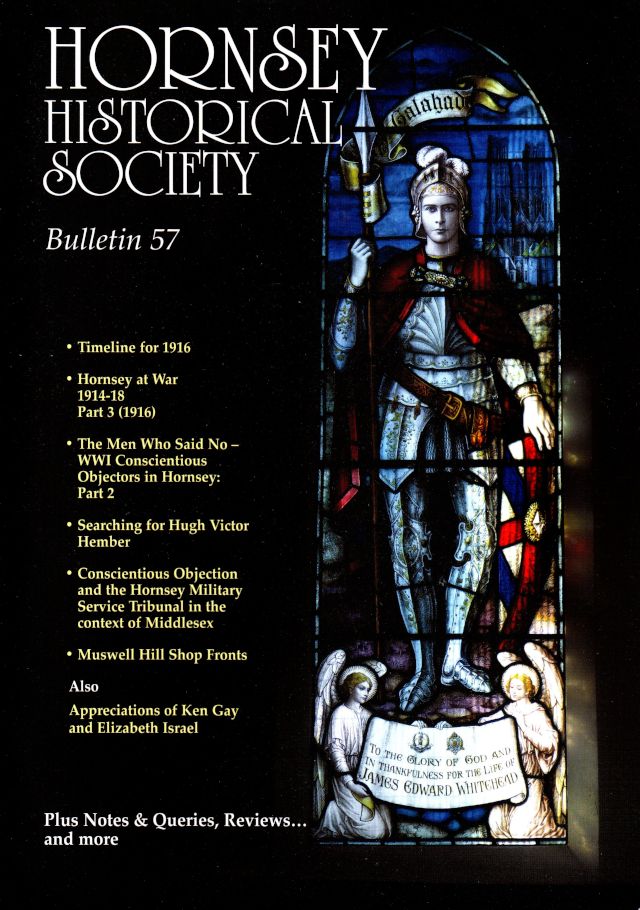 Contents
Articles
Timeline for 1916, Janet Owen
Appreciation of Ken Gay, Bridget Cherry
Appreciations of Elizabeth Israel, Peter Barber & Keith Fawkes
Hornsey at War 1914-18 Part 3 (1916) Nicolas Allaway
The Men who said No – Conscientious Objectors in Hornsey: Part 2, Jennifer Bell
Searching for Hugh Victor Hember, Hugh, Ruth & Chris Garnsworthy
Conscientious Objection and the Hornsey Military Service Tribunal in the context of Middlesex, John Hinshelwood
Muswell Hill Shop Fronts, David Frith
Notes & Queries
How I became a Local Historian, Albert Pinching
Brick Place, Malcolm Stokes
Albert Pinching Appreciation, Janet Owen
Reviews
Ivy Mantled Tower, Prof. Michael Port
Crouch End Four Walks, David Winskill
Harringay: A Century of Change, David Winskill
Loyal to the Crown, Malcolm Stokes
Free to members
The current issue of the Bulletin is free each year to all members. If you aren't a member and would like to join you can find details on the membership page. As well as the Bulletin, members also receive our quarterly newsletters, free entry to all our monthly lectures and advanced invitations to all special events and outings when they restart.
Buy the Bulletin
Bulletin 57 can be purchased online by non-members for £6.50+p&p.
We aim to send out all items within 5-7 days but as a small Society run entirely by volunteers turnaround times may sometimes vary.
Write for the Bulletin
We welcome contributions to the Bulletin from interested authors, who do not need to be members of the Society. Articles for inclusion should be concerned with Hornsey, its residents and its history. A length of about 2-3000 words is suggested, but shorter pieces such as letters or reviews of books about local history can also be accepted.
All articles are read prior to acceptance by members of the Publications Committee, who may suggest revisions. Material should be sent by email attachment in Word format (not PDF) to the Editor, Professor Sandra Clark, who will be happy to deal with any questions about potential contributions. Illustrations are encouraged.